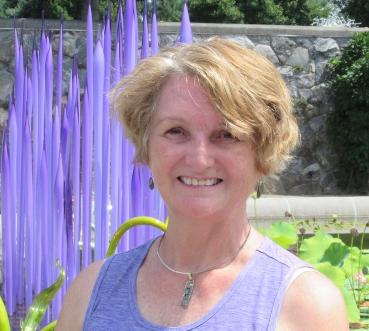 Some years ago I faced a personal crisis. In the spring of that year 3 cranes came everyday to the field beside my house. From the first sighting I felt an emotional calm that had been absent in the previous months. It is as if these birds were the vital sign that after a winter of emotional pain my life would soon be right again. I watched for them each day and they always returned bringing a certainty of hope and the courage to start over.
Nature heals. Cranes are a symbol of hope and healing and are often the subject of my artwork. Through my artistic expression healing emotion reaches out to you. It is my hope these collages invite you to sense the tranquility and mystery nature brings as it heals.
Natural beauty inspires me. Whether it be hiking Lake Louise in Canada, viewing ancient petroglyphs in the West, driving the lush lanes of Ireland or biking Wisconsin trails I find a deep connection to the landscape. As I travel, I look for artists who reflect their own connection with nature through paint,sculpture,architecture. Seeing a variety of artistic interpretations enhances my growth as an artist. Traveling confirms how the natural world enriches us and that is what I convey in my collages.
Spending 29 years teaching was an outlet for my creativity and imagination. I thrived on the daily interaction with children and adults. When I retired I decided to explore an inner artistic life. After a year of watercolor classes I learned a technique for creating my own paper for collage. It opened a new world of experimentation. I developed a style of unique, one of a kind collages with distinctive backgrounds. Using my imagination and creativity in this way has been invigorating and fulfilling. Retirement has been busy, growing experience.
My family continues to support me on this journey. We have children in WI,Iowa and North Carolina. Visiting them has expanded our travel destinations. I also continue with art classes. I belong to several art groups and exhibit as often as possible. I love the journey of a life long learner.
You can contact me through email mccoygkj@yahoo.com and follow GailMcCoyArt on Facebook. My husband and I live in Sun Prairie,WI. You can stop at my studio by appointment.
A Select Sampling of Exhibitions
Represented at Plum Bottom Pottery, Egg Harbor,Door Co., WI & Santa Fe Gallery, Cedarburg,WI & Naples Art Museum Gift Shop
2017 Solo Exhibition, Alexander House Museum, Port Edwards, WI
2016-2017 Solo Exhibition, 800 Gallery, Madison,WI
2017 Award of Excellence, Highland Park and Glencoe, Ill and WI Regional Artists State Show,Madison,WI
2016 Award of Excellence, Green Lake Art Show, and Milwaukee 3rd Ward Art Show
2015 1st Place, Sturgeon Bay Art Show,Door Co., WI
2013,2014 WI Museum of Art, West Bend, WI
2014 Artful Affair,Best of Show, Madison,WI
2012 Citrisolv National Spring Contest, Runner up
2012 Wisconsin Biennial, Charles Allis Museum Milwaukee,WI
2011 Agora Art Show, Award of Excellence
Wisconsin Regional Artists State Show,Madison, WI...
Chinese Fine Art Assoc. Award 2017
Bonnie Johnson Award 2012
State Award 2011,2012,2014,2015,2016,2017
Honorable Mention 2010,2013
2013 Cover art for show catalog
Invited to hang art at UW Madison,School of Agriculture, 2013-2014,2017-2018
2010,2013 Honorable Mention, Artful Women, Madison,WI
Publications
2018 Inspire Magazine, August issue
2016,2018 Peninsula Pulse, Door County,WI including covers June issues
2011-2015 Published 8 pieces in 8 volumes of Agora Magazine including cover
2010 The Art of Eclectic Cooking cookbook
2012 Featured artist on Artpromotive
2012 Featured artist on smARTist
2013 WRAP State Show Catalog cover
2016 Featured artist, Unity Magazine, June issue
2017 Pedestrian Safety Boxes, Madison,WI
Collections
UW Hospitals and Clinics, American Center Hospital,Madison,WI
The Spa, Sun Prairie,WI
Lazy Jane's Restaurant, Madison,WI
Marathon County Public Library, Wausau, WI
700 UBD Building,Madison, WI
Epic Systems, Verona,WI
Numerous international private collectors
Memberships
Wisconsin Regional Artists, Former board member
Madison Art Guild
Wisconsin Visual Artists
Wi Alliance of Artists and Craftpeople