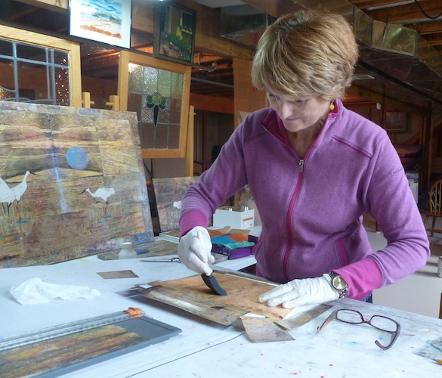 For me, Art is totally about emotion so I load my work with it. The process I use to create the paper makes patterns that cannot be replicated. Looking closely you will see amazing "sweet spots" offering calm, tranquility, introspection and wonder, healing and hope. In each work of Art there is a connection to the wonder of nature. These pieces fill a need that only Art can meet.
People who buy my Art remark on how the unique, mysterious backgrounds bring them into connection with the piece. The cranes are elegant and mysterious. Every time you look at your collage you find something new to be surprised by and enjoy. Clients are often amazed everything is made from paper I create. The effects I achieve come from the hundreds of sheets of paper I make by moving the ink on print with a solvent of squeezed orange peels. Here's a video about my process:
Owning my art brings an awareness of your connection to the wonder of nature and the emotion nature brings out in you.